Learn valuable tips and tricks to identify genuine football memorabilia and avoid counterfeit replicas in our blog post, "Unveiling the Secrets.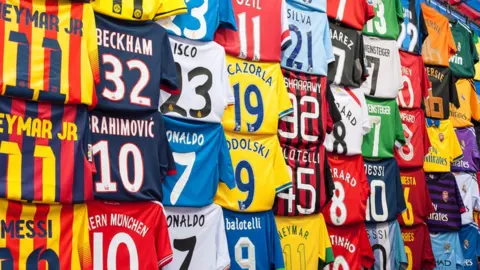 Football memorabilia carries an undeniable allure, capturing the hearts of fans and collectors alike. However, amidst the excitement lies a challenge - distinguishing genuine treasures from counterfeit replicas.
In this blog post, we will explore some key tips and tricks to help you spot authentic football memorabilia and ensure that your collection is filled with genuine pieces that hold historical and sentimental value.
Do Your Research
Before diving into the world of football memorabilia, equip yourself with knowledge. Study the item you wish to acquire, including its history, design, and any unique characteristics. Familiarize yourself with authentic versions of the item by exploring reputable sources, such as official club websites or renowned auction houses.
Examine Quality
The quality of the item plays a vital role in determining authenticity. Inspect the material, stitching, printing, and any accompanying tags or labels. Genuine football memorabilia is often crafted with precision and attention to detail. Poor stitching, faded prints, or flimsy material can be red flags indicating a fake.
Verify Autographs
Autographed memorabilia holds immense value for collectors. When examining autographs, observe the consistency in the signature - inconsistencies may raise suspicions. Look for signs of pen pressure, smudges, or continuous ink flow. Authentic autographs usually exhibit visible pen marks on the surface and display natural variations due to the human hand.
Seek Certification
Certification from reputable entities adds credibility to football memorabilia. Look for certificates of authenticity provided by established authentication services, clubs, or players' foundations. Be cautious of vague or generic certifications, and do thorough research on the credibility of the issuing entity.
Evaluate Rarity and Historical Context
Rare items with a significant historical context tend to hold greater value. Consider whether the piece aligns with known events or milestones in football history. Consult trustworthy resources, such as club archives or professional historians, to validate the item's historical significance.
Purchase from Reliable Sources
To minimize the risk of acquiring counterfeit memorabilia, purchase from established and trusted sellers. Reputable auction houses, official club stores, licensed collectors, or certified dealers are usually reliable sources. Avoid suspicious online platforms, social media sellers without credible backgrounds, or deals that seem too good to be true.
Consult Experts
When in doubt, consult experts in football memorabilia. Reach out to knowledgeable collectors, appraisers, or professionals working within the industry. They can provide valuable guidance, share their experience, and help you navigate the complexities of the market.
:
Acquiring authentic football memorabilia requires a keen eye, meticulous research, and a healthy dose of skepticism. By following these tips, you can increase your chances of collecting genuine pieces that carry historical significance and personal value. Remember, the joy of owning authentic football memorabilia lies not only in the physical item itself but also in the stories and memories it represents.