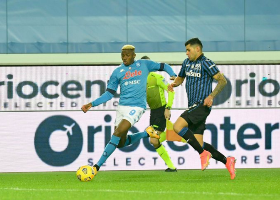 Former Lazio and Napoli striker Bruno Giordano, top scorer in the Serie A for the 1978-79 season, is confident that Victor Osimhen will deliver for Napoli in the long run.
In truth, the Nigeria national teamer, who netted 18 goals for Lille last term, has had some teething problems in adjusting to the Serie A, scoring four goals in fifteen matches.
Several pundits have questioned the transfer fee Napoli paid to Lille to secure Osimhen, who costs 49 million euros more than Borussia Dortmund sensation Erling Haaland.
"The price of an attacker depends on the market and the demands the player has," Giordano said to La Gazzetta dello Sport via spazionapoli.
"I don't know if the Nigerian is worth so much: I know that Haaland at Borussia cost less and so it is logical that the square should question itself given the high expectations surrounding Victor, who is only 22 years old".
Giordano stressed that he likes Osimhen and revealed the key attributes of the Super Eagles star that differentiate him from other strikers at Napoli.
"He has different characteristics from the other Napoli strikers and this season his growth has been held back by all the injuries he has had.
"He is very fast , hits well with his head and knows how to give depth to the team. I am convinced that already in this championship final he will be able to do good things . "So let's talk about the player and no longer about market valuations".
Osimhen has been included in Napoli's traveling party for their Serie A clash against Sampdoria on Sunday afternoon.