Golden Boot products making waves in Turkey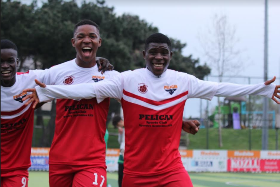 Players of Golden Boot Football Club who recently traveled to Turkey in search of greener pastures were the cynosure of all eyes in a test game on Friday.
The Nigerian wonderkids gave a stunning account in an eight-goal thriller involving Pelican Sports Club and Dudullu Football Club.
As Pelican SC were too hot for Dudullu, Dimukeje Chinemerem who joined the advance party just about a week ago grabbed a brace off the bench while Anyim Chinaza scored one and added two assists.
King Peters also joined the goal party with a well taken strike in a game that had the Nigerians grabbing the headline for the right reasons.
The players have promised to do more as they continue to ink the name of their parent club, Golden Boot Football Club in gold, as well as doing Nigeria very proud in Turkey.
The aforementioned players will take part in different football trials which has been put in place by a Turkish football outfit.